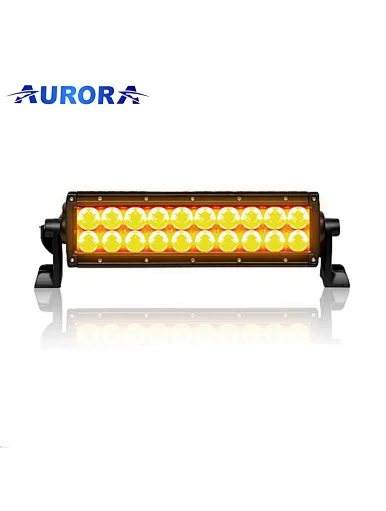 Dual Row Light For Cars 10 Inch Off Road LED Lights Bars Amber LED Bar Lights
Aurora's Amber LED Bar Lights are universally suitable for the majority of vehicles, such as ATV ,UTV Truck,Motorcycles, Boats. Embedded with Cree LED chips, our led lights can emit satisfying super intensive amber light that is easy on the eyes. In addition, LEDs are far more energy-efficient than regular incandescent light bulbs. Ge lens from Aurora is shatterproof, anti-scratch and 100% optically clear to provide an excellent visual effect. The highest level of IP68 and IP69K waterproof rating is certified to guarantee the waterproof property, enabling you to operate the Amber LED Bar Lights in all weathers. The Dupont painting technology application on the housing of the Amber LED Bar Lights makes the device more resistant to abrasion, corrosion, UV rays, etc. We designed the oversized heat sink specially to dissipate the heat into surrounding, maximizing surface area for better air circulation, keeping the light bar running at optimal temperature and extend the lifetime over 50000 hours.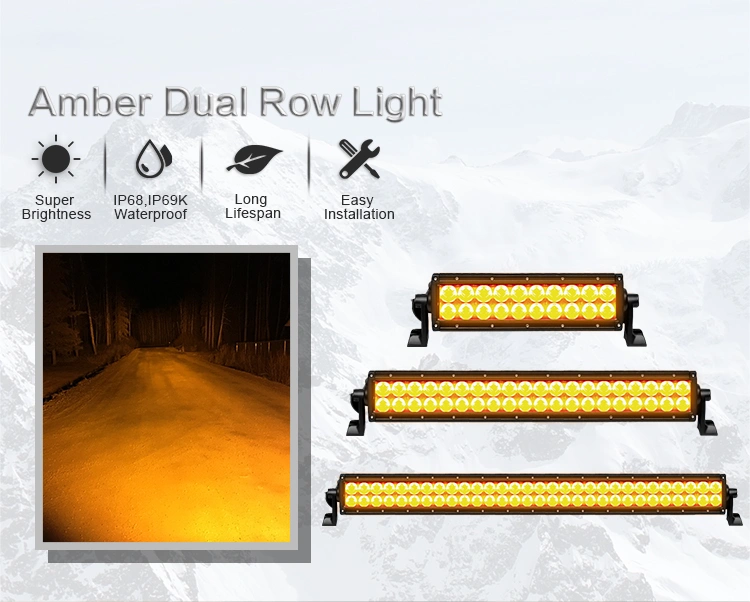 AURORA is invested by Power-time group. Group company has been in military products filed for over 10 years.Aurora is specialized in offroad LED lighting products. It can work in 9-36V DC input. IP69K waterproof rating, the best one in this industry so far.Lightsare certified withCE,IP68&IP69K, E-mark, SAE, RoHS, ISO9001 certificate etc. In addition, products passed tests like Salty Spray Test, High/Low Temperature test, UV test, ball dropping test,high pressure, vibration test, etc. We provide premium LED lights as well as best service. Our warranty is 2 years. Till now, we have been working with clients from over 80 countries.
Aurora amber LED light is usually used in fog weather, smoke environment, heavy rains and snow, desert etc. Because amber light is usually have better penetrability than white light. Many clients use our amber light as fog light for vehicles, especially fire trucks.
Product Specification of10inch amber light bars
| | | | | | | |
| --- | --- | --- | --- | --- | --- | --- |
| Model | Length | LED chips | Watt per Light | InputVoltage | Color of light | Beam Pattern |
| ALO-6-P4E4A | | CREE 3W LED | 36W | 9-36V | amber | |
| ALO-10-P4E4A | 10inch | CREE 3W LED | 60W | 9-36V | amber | Combo |
| ALO-20-P4E4A | 20inch | CREE 3W LED | 120W | 9-36V | amber | Combo |
| ALO-30-P4E4A | 30inch | CREE 3W LED | 180W | 9-36V | amber | Combo |
| ALO-40-P4E4A | 40inch | CREE 3W LED | 240W | 9-36V | amber | Combo |
| ALO-50-P4E4A | 50inch | CREE 3W LED | 300W | 9-36V | amber | Combo |
Product Featuresof10inch amber light bars
1. Widely used in fog, smoke, rainy, snowy weather.
2. AURORA patentedARoptics,94% opticalefficiency
3.Original Osram & CREE LED chips
4. GE LEXAN lens, 100% optically clear
5.Operating Temp: -40 ~ + 145 deg
6.Over-sized heat sink, guarantee stable performance
7.Military standard breather
8.Housing is DuPontpainting technology,UV resistant
9.Stainless steel screw, no rust in water and corrosion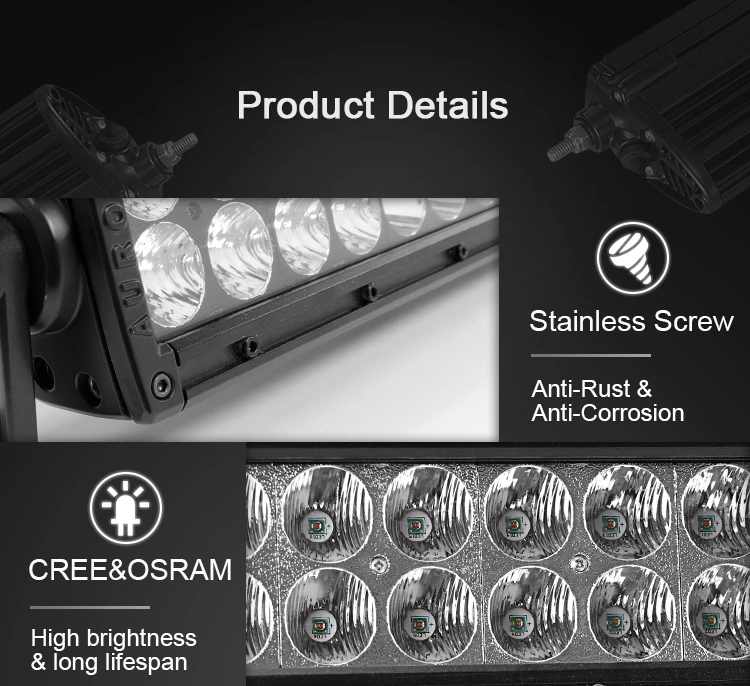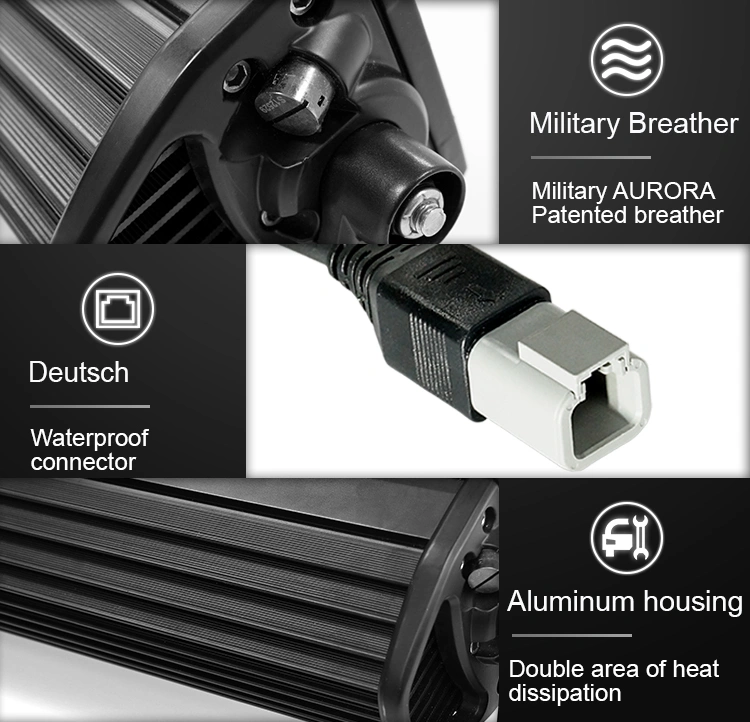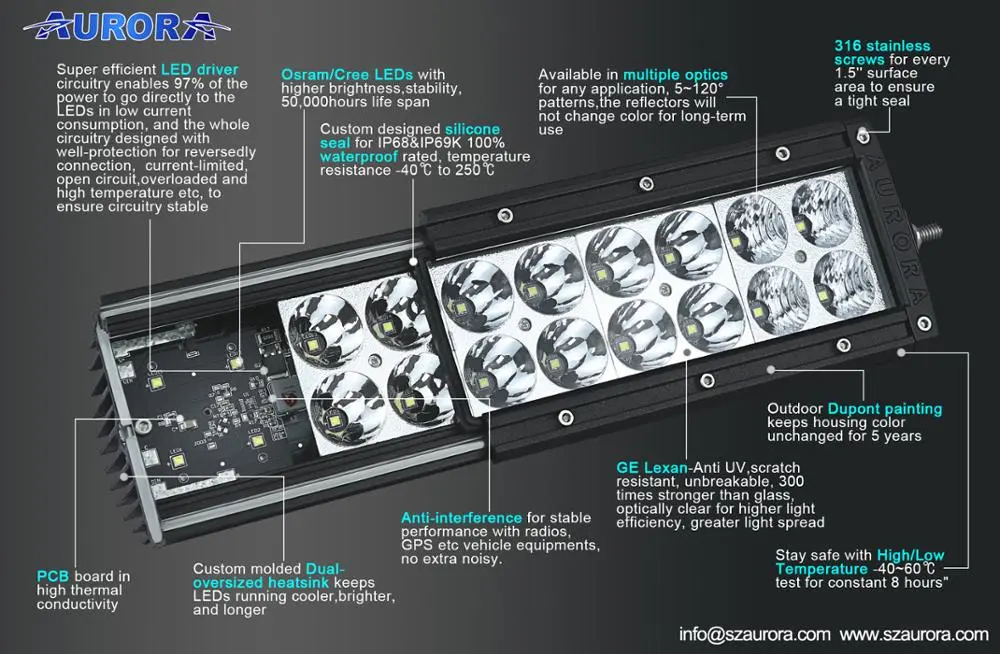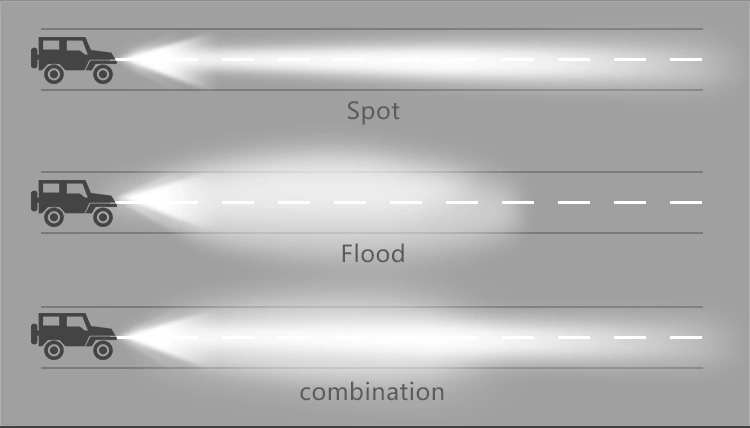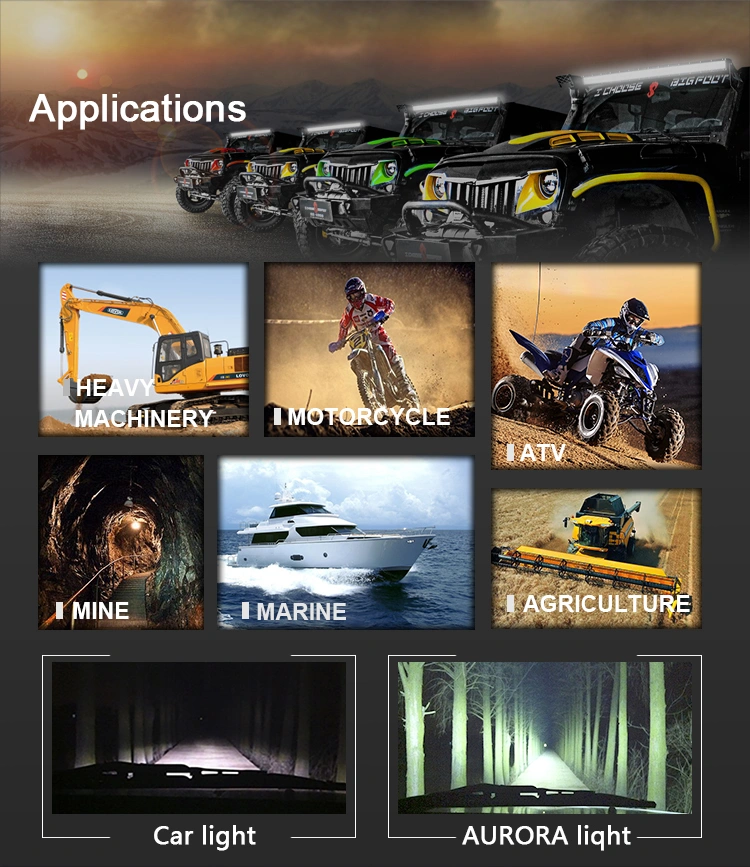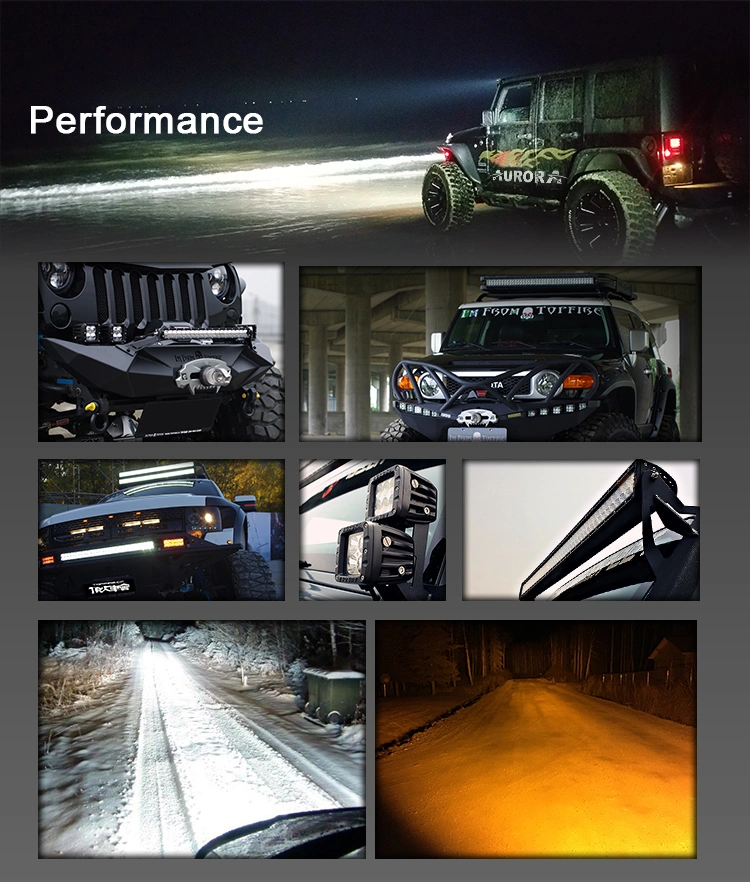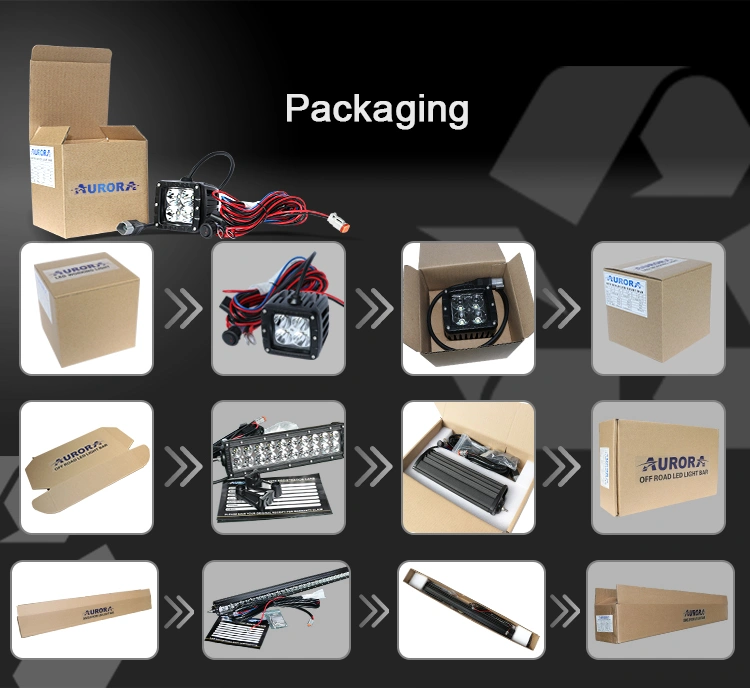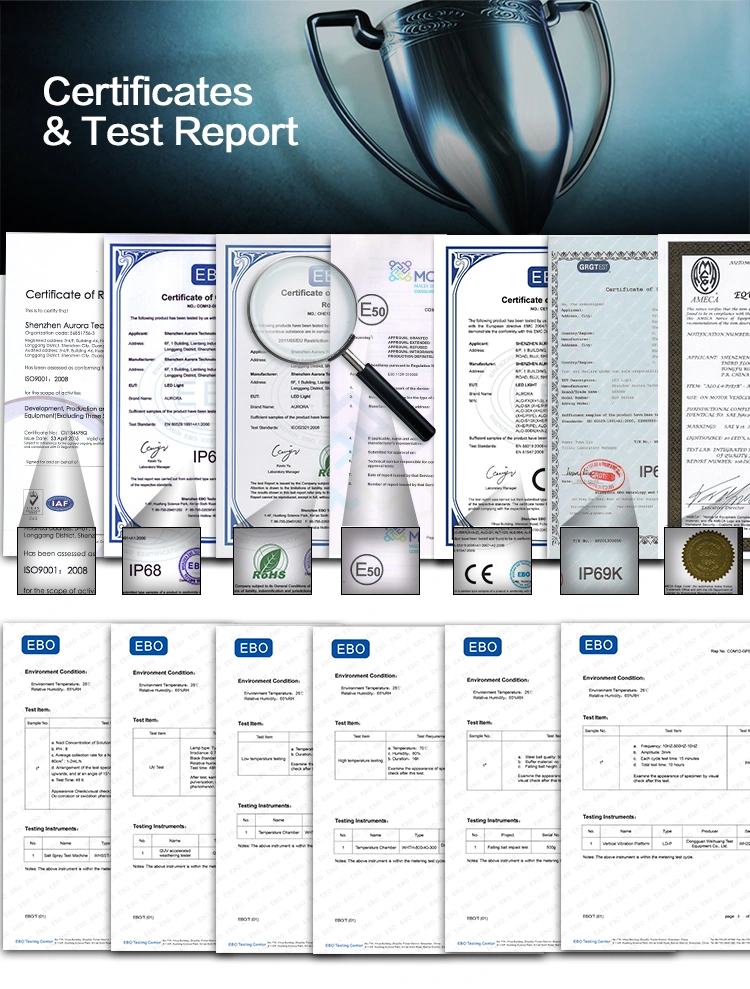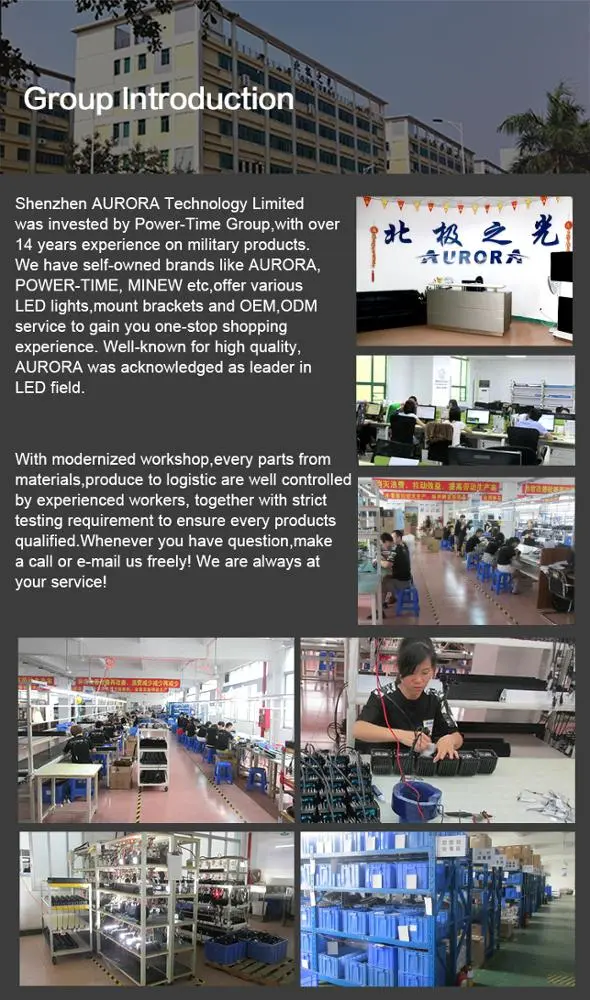 Q:What is the difference between AURORA D1 series light bar and standard dual row light bar?
A:They are in different structure.
Both passed IP69K, but D1 series more better . D1 use Stainless steel bracket. D1 has optional install way, one is on both sides, other is in the middle.
Q.What is AURORA light waterproof rating?
A:IP68 and IP69K, the highest waterproof in themarket.
Q:Is AURORA rock light only one color available?
A:Thereare 5 colors for option, green, blue, white, amber and red.
Q:What's certificate AURORA light got from Authority laboratory?
A:ISO9001, CE, ROHS, IP68, IP69K, E-mark, SAE, UV, Salt Fog, High Temperature, -40degree Low Temperature, Dust, Vibration, dropping ball.
Q:Canyouacceptsampleorder?
A:Sample order is welcome for quality test.